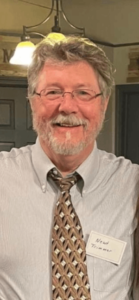 Pastor Newton K. Trimmer was born in Sparta Wisconsin, to Newton S. and Ruth A. Trimmer. He is the youngest of three children. Today, his oldest sister lives near Dayton, Ohio and the middle sibling lives in Oxford, Wisconsin.
Pastor Trimmer graduated from Portage High School in Portage, Wisconsin, in 1977. After high school, he attended Madison Area Technical College to study Diesel Mechanics. In 1978 he began his 17 years of employment at the Wisconsin Power and Light Company, he obtained Journeyman Certifications in industrial welding and large machine repair, residential HVAC service, and major appliance repair and delivery.
Ending his first career as a Service Training Specialist in 1995, he began his education to prepare him for his 2nd career as a minister of the Gospel. He graduated from Martin Luther College in New Ulm, Minnesota in May of 1998. After receiving a Masters in Divinity from Wisconsin Lutheran Seminary in May 2002, he was assigned to serve two churches; one in Valley City and the other in Jamestown, North Dakota.
Pastor and his wife, Karen, were married for 42 years until the Lord called her to the Church Triumphant. Pastor Trimmer and Karen have three children and eight grandchildren. The oldest of their three children is Aaron. He is married to Jennifer. Both Aaron and Jennifer are teachers in the WELS grade schools in Wisconsin. They have 2 children. Noah, their second child, is married to Brittany. They have three children and live in Beaver Dam, WI, where Brittany teaches 1st grade at St. Stephen's. Rachel, their youngest, graduated from MLC with a degree in both vocal and instrumental music. She is married to Jacob Brohn. They have 3 children. Jacob is serving as pastor of Bethany Lutheran Church, a WELS church in Gibsonia, PA.