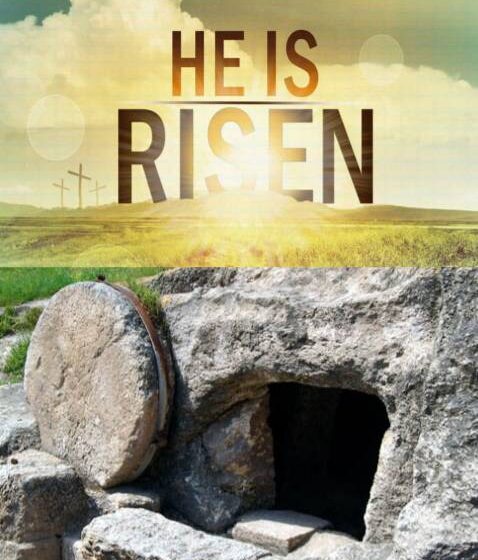 "Why do you look for the living among the dead? He is not here; He Is Risen! "
2 There was a violent earthquake, for an angel of the Lord came down from
heaven and, going to the tomb, rolled back the stone and sat on it.
3 His appearance was like lightning, and his clothes were white as snow.
4 The guards were so afraid of him that they shook and became like
dead men.
28:5 The angel said, "Do not be afraid, for I know that you are looking for Jesus,
who was crucified. 6 He is not here; he has risen, just as he said. Come and
see the place where he lay. 7 Then tell his disciples: 'He has risen from the
dead and is going ahead of you into Galilee.
8 So the women hurried away from the tomb, afraid yet filled with joy, and ran
to tell his disciples. 9 Suddenly Jesus met them. "Greetings," he said. They
came to him, clasped his feet and worshiped him. 10 Then Jesus said to them,
"Do not be afraid. Go and tell my brothers to go to Galilee; there they will see
me." 20:2 So they came running to Simon Peter and the other disciple, and
said,
"They have taken the Lord out of the tomb, and we don't know where
they have put him!"
3 So Peter and the other disciple started for the tomb. 4 Both were running, but
the other disciple outran Peter and reached the tomb first. 5 He bent over and
looked in at the strips of linen lying there but did not go in. 6 Then Simon Peter
came along behind him and went straight into the tomb. He saw the strips of
linen lying there, 7 as well as the cloth that had been wrapped around Jesus'
head. The cloth was still lying in its place, separate from the linen. 8 Finally the
other disciple, who had reached the tomb first, also went inside. He saw and
believed. 9 (They still did not understand from Scripture that Jesus had to rise
from the dead.) 10 Then the disciples went back to where they were staying.